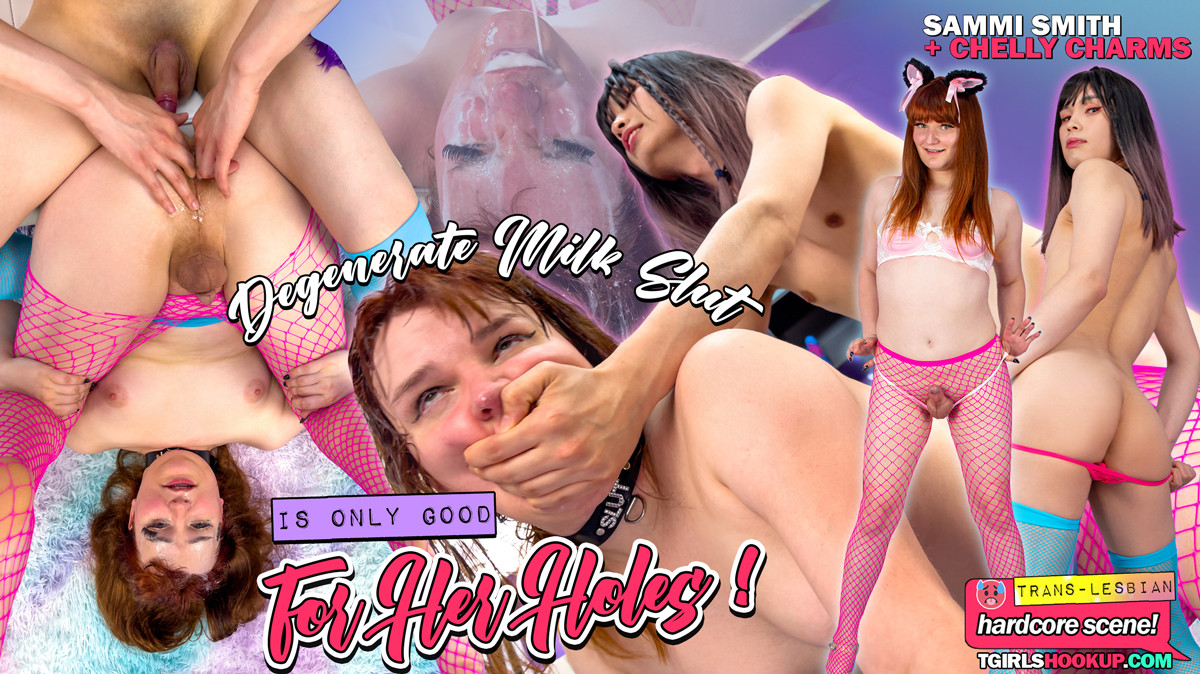 Tgirls Hookup is always striving to bring you the freshest, hottest sluts making the filthiest smut they can come up with and today is no exception!

Today we've got the lovely Sammi Smith! This Lil hottie discovered our app and immediately started swiping, on the hunt for hotties. With lovely hair and angelic features, you'd be forgiven not knowing what a dirty slut she is. She hit the jackpot when she swiped on Chelly! Ms. Charms is the definition of a femme top: petite frame, adorable face, and the overwhelming desire to pound some slut's brain into cum! They're made for each other, and it doesn't take much flirting before Chelly drops the addy and Sammi is skipping her way over to the TGHU crash pad!
With Sammi inside, the inspection starts, with Chelly pawing her latest slut to pound. The energy starts high and stays high with Sammi quickly finding her mouth full of girl dick. Chelly toys with her food for a long time before going taking aim and Sammi's delicious ass, making sure it is the perfect shade of red with tool and palm before sliding inside. She plays musical chairs with Sammi's holes swapping back and forth between her ass and face! Chelly does a better job removing this poor slut's makeup with brutal ass-to-mouth than most can do with the first pass of a wash rag. And hearing Sammi moan as Chelly turns her into a human cereal bowl before finishing up with a splash of her own cream is something that you just have to hear! Keep it right here at Tgirls Hookup, where we bring the butts and pound the sluts!

love and girl-cum,

Ana.
Added on 27th Oct 2022
27th Oct 2022
|
42 minutes